What you'll get
Informational Buyer's Guide

Includes everything you need to know! Model comparisons, specification charts, features, owner stories, and FAQs.

Money-Saving Promotions

Learn about all the current promotions, including cash savings, credit offers, our hands-on trial, and more!

More Rototiller Options

We'll include information about our unique family of versatile rototillers.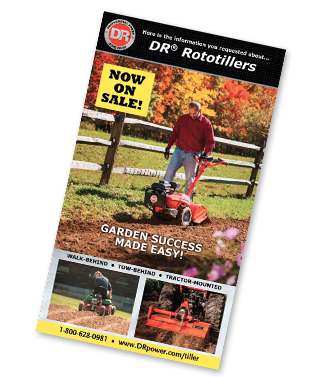 What other owners are saying
The Roto-Hog works very well for our garden. I've used the Hiller attachment and the Culti-Packer and was very pleased with the results. The time and effort it save made it well worth the amount spent.
This product takes the place of a tractor. I love my Roto-Tiller. It does the job of a tractor at a fraction of the cost. Love it!
This product is very easy to use. The Roto Hog Tiller makes tilling extremely easy and much quicker than a walk behind tiller, You can till, spread seeds and pack all with one machine.