text.skipToContent
text.skipToNavigation
Compare up to
4

items

Select the compare checkbox on at least 2 items to compare.
Which DR Tiller type is right for me?
DR offers several different styles of tiller and choosing the right one is all about your property and what plans you have for it. Walk-Behind Tillers are the most common and we offer both Front Tine, Rear Tine and Dual Rotation models.
The DR Front Tine Tiller (the PREMIER-FRT) has tilling tines in the front. The tines rotate forward and are the tiller's self-propulsion mechanism as well as the tilling tool. A drag stake in the rear is used to hold the tiller back, providing resistance that allows the tines to slip through the soil. The PREMIER is best for established gardens. It's great for breaking up clods and integrating organic matter into your soil.
The DR Rear Tine Tiller (the PRO-CRT) uses counter-rotating tines (CRT) and has powered wheels to propel the machine forward. Since the tines rotate in opposition to the powered wheels, the tilling action is more aggressive. This gives the machine the additional muscle you need for heavier uses, like sod-busting or tilling in heavy clay soil.
The DR Rear Tine DRT (the PRO XL-DRT) offers both front- and counter-rotation so that you can choose the most appropriate mode for the job at hand. For cultivating or lighter tilling, forward rotation provides plenty of churn to get the job done smoothly and efficiently. For tougher compacted soil, or for sod-busting, switch to counter-rotation for a more aggressive digging action.
Our DR Tow-Behind Tillers are designed for larger gardens and making food plots. While you can certainly accomplish those jobs with a walk-behind model, it can get very fatiguing to do so. With the DR Tow-Behind, you simply hitch up to your ATV or garden tractor and till or bust sod while you ride in comfort. Be sure to check out the available attachments that can make your job even easier.
Finally, we offer handheld DR Tiller Cultivators, which makes great companion tillers for a full-sized DR Tiller. You can use these machines to cultivate between rows for weeks or months after planting. And if you have only small garden beds, a DR Tiller Cultivator just might be the only tiller you need.
---
How Can I Till Really Hard Soil?
While a good tiller makes the job a lot easier, some basic preparation is sometimes necessary. If your soil has a lot of medium to larger rocks, take the time to remove them before tilling. It will save you the frustration of "clanging" into them and possibly damaging your tiller.
Rototilling soil when it is dry makes the task more difficult and isn't good for the soil itself (the tines will tend to produce dusty soil, which is more vulnerable to erosion by wind or water). But tilling soil that's too wet increases compaction and creates more clods. There is no magic formula for the right moisture content, but ideally you should let it dry out for 2-3 days after a soaking rain (or after a long hose soaking).
Finally, you can start tilling shallow and gradually go deeper, rather than trying to gain your full depth on the first pass. You can control for depth with the drag stake or—on the DR Tow-Behind Tiller—with the depth regulator right from your tow vehicle.
How does the Tow-Behind Tiller Dept Adjustment Work?
One of the key features of the DR Tow-Behind Tiller is its adjustable tilling depth. The DR allows you to adjust the tine depth to suit the conditions at hand—either with a remote control right from your tow vehicle (PRO model), or with a manual lever (PREMIER model). With the DR Tow-Behind, you are in total control.
With our Walk-Behind models you can control tilling depth by how far down you set the drag stake. A simple pin lets you reset it. You can also assist by pushing down on the handles to ensure that you are reaching the maximum depth.
Reviews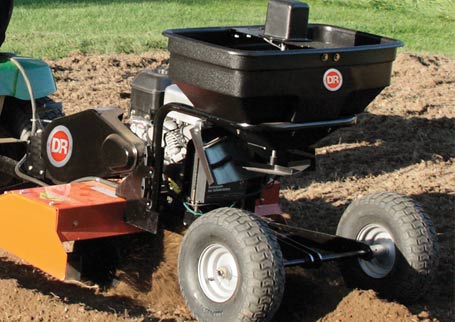 DR Tow-Behind Tiller Reviews
Product makes gardening a simple chore for the elderly

"I'm 77 years old and thought I would be giving up gardening until I discovered this tiller. I'm even helping my other elderly friends by tilling their gardens. I do have to stop the yard tractor to raise and lower the tines rather than doing it while riding. Other than that, I am very pleased with the product."

- Rhnelson36 from Arkansas


about the Manual-Start Premier model
Very well made machine and love the remote control

"The remote control is nice especially when you can control the depth of the tines. All the accesories are great. Very versatile machine. Will make gardening a pleasure. very easy to use beats those big walk behind tillers"

- Patsy from Minnesota


about the Electric-Start Pro model
Return to Gardening

"I am a disabled veteran and for the past few years have not been able to plant a garden because I can't walk long enough to prep the seed beds and the rest of the normal chores of gardening. Thank you DR! I am now back in the garden. Without the tow behind tiller I would not have been able to prepare the garden again this year. We are looking forward to a bountiful harvest for the first time in years."

- Bruce E. from PLAIN DEALING, LA


about the Electric-Start Pro model
Easy to use and very reliable.

"The DR Tow-Behind works very well for our garden. I've used it with the HILLER attachment and the CULTI-PACKER and was very pleased with the results. The time and effort it saved made it well worth the amount spent. I'm so pleased with the quality of the products that, in time, I plan to purchase additional DR products."

- PapaBill from California


about the Electric-Start Pro model
This product is very easy to use

"The Tow-Behind Tiller makes tilling extremely easy and much quicker than a walk behind tiller. You can till, spread seeds and pack all with one machine. You will be very pleased with this product and you will use it many times. I recommend it highly. We have the electric start and the controls for letting the tiller up and down are very easy, right at your fingertips."

- Butterbean12 from Alabama


about the Electric-Start Pro model