Burn Safely with the Stainless Steel Portable BurnCage
Perfect for sensitive financial documents, burnable household waste, old leaves and branches. Order your FREE Information Kit to learn more!
What you'll get
Informational Buyer's Guide

Includes everything you need to know! Model guides, specification charts, features, owner stories, FAQs, and more!

Money-Saving Promotions

Learn about all the current promotions in effect, including cash savings, credit offers, and more!

How to Order

Details about convenient ways to order yours, and have it shipped right to your door.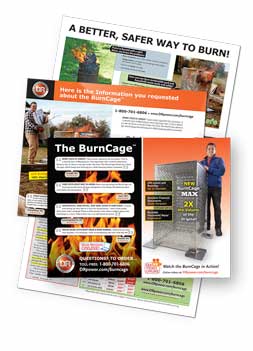 What other owners are saying
We have several hundred feed bags to burn each week. We have had it for over a month. We have not moved it or emptied it. There is hardly anything left after the fire goes out. Its a great concept that works.
Works great. Wish I'd bought this along time ago (before going through at least 3 burn barrels in a few years).
Given the safety and peace of mind it provides, it is well worth the price. Overall, I highly recommend this product for anyone who has ongoing burning needs to keep their property clear of vegetation.