text.skipToContent
text.skipToNavigation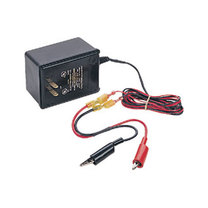 12 Volt Battery Charger
12 Volt Battery Charger
1.5 Amp trickle charger
Product Summary
Keep your DR charged with our easy to use trickle charger for any 12 volt battery. The 12 Volt Battery Charger maximizes battery life by keeping it fully charged. Use for DR Power Equipment, tractors, autos, boats and more.
(more)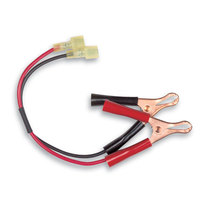 Large Clips
Large Clips
For 12 Volt Battery Charger
Product Summary
The 12 Volt Battery Charger comes standard with small alligator clips that work with the DR batteries. The optional Large Clips work with tractors, autos, boats and more that have larger battery terminals.
(more)
List:$12.99
Sale:$9.99
You save:$3.00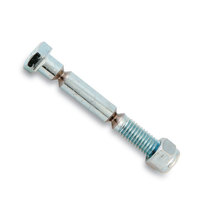 Package of 7 Shear Bolts w/ Nylon Lock Nuts
Package of 7 Shear Bolts w/ Nylon Lock Nuts
For DR Power Grader
Product Summary
Eliminate downtime! The Power Grader hitch is designed with a specially engineered shear bolt that breaks under extreme force if you get snagged on an immovable object while grading. The bolt is easily replaced using a 9/16" wrench.
(more)
List:$26.99
Sale:$21.99
You save:$5.00
Added to Your Shopping Cart
Compare up to
4

items

Select the compare checkbox on at least 2 items to compare.
Popular Questions
How do I grade my gravel driveway with the DR Power Grader?
Grading a gravel driveway or dirt road with the DR Power Grader couldn't be easier! Simply attach the machine to your towing vehicle and position yourself at one end of the area to be graded. Then drive up and down the driveway/road until the entire surface is graded. We like to start with the lowest setting, such that the teeth are digging in as deeply as possible. This quickly loosens all the compacted gravel, providing plenty of material for the rear leveling blade to fill in potholes and ruts. Then, you may want to raise the teeth and go over the area again with the teeth penetrating less deeply to further spread the material and smooth the surface. The technique may vary based on your driveway's conditions, but the basic process is very simple, and you can't beat the results!
What towing vehicles can I use with the DR Power Grader?
You can tow either model of DR Power Grader with a utility tractor or ATV. If you prefer to use a lawn tractor as your towing vehicle, we recommend using one of at least 14 HP and/or 400 lbs. with the 48" DR Power Grader model (12 teeth), and of at least 19 HP and/or 500 lbs. with the 60" (16 teeth) DR Power Grader model.
How is grading different with the EZ-Dial model?
Rather than the powered actuator used on the other models, the EZ-Dial model features a manual adjustment which is designed to be within easy reach from your tow vehicle's driver seat. While the powered actuator can adjust grading depth while moving, the EZ-Dial model requires stopping your tow vehicle. Changes of grading depth are typically needed more frequently when restoring a driveway than when doing routine maintenance. You may also need to raise the teeth when traveling off the driveway onto grassy surfaces (for example when doing a u-turn). The choice between a powered model vs. the EZ-Dial model is one of convenience vs. price. They both do the job equally well, but it will progress with less stopping and starting with the powered actuator.
What else can I use the DR Power Grader for?
There are a number of projects besides driveway grading for which the DR Power Grader may be used. Maintain smooth gravel parking lots by grading them periodically. Use it for any projects that you would normally use a landscape rake for, such as breaking up the 'crust' that sometimes forms on the top of your garden soil before tilling, or leveling the ground before seeding a new lawn. Many DR Power Grader owners also maintain horse trails, equestrian arenas, or baseball fields with their machines. The DR leaves beautiful results on dirt surfaces such as these, especially when used with the optional Drag Screen.
Reviews
DR® Power Grader Reviews
Better than sliced bread...

"I am really impressed with the performance of this grader so far. Today was the first time I was able to use it due to bad weather and although a little slow cutting at first due to the packed driveway it did a superb job with multiple passes. If you have a 4 wheel drive ATV it should give you minimal issues with grading at full depth... Thanks DR for a Great Product!"

- RONALD A. from MEHERRIN, VA


about the 48" Driveway Grader model
Fabulous product

"Thank you for a wonderful tool that was delivered a few weeks ago. The last 20 years working to smooth our 1 acre park area was reduced to about 3-4 hours over 2 weeks. Fabulous; durable; cuts heavy or just barely. I am pleased."

- John N. from kingsburg, CA


about the 48" Driveway Grader model
Great Product

"My gravel driveway and is over 1/4 mile long and had been looking for something to grade and maintain it. I know DR has been around a long time and that usually means great quality. I bought the grader and am very pleased with its performance and quality. I pull it behind a 25hp Dixie Chopper and it really does a great job. Beyond the product Dr has great customer service and will be doing business with them again."

- David H. from MONROVIA, IN


about the 48" Driveway Grader model
Pays for it's self every time I use it!!!

"Sorry this is long overdue, I purchased the 60" model a couple years ago and was really skeptical from just viewing the ads! I have about a quarter mile driveway in the mountains of Idaho that some people would call a goat trail at best! We get from 2 to 4 feet of snow each year, and due to the steepness of our driveway, the spring run off makes ruts that sometimes get 10 to 12" deep. I should have taken before and after pictures this year to show, but I didn't! It takes on and average about 2 hours of work with the road grader and my atv, and you could drive your Lexus up there if you wanted! Before I purchased the road grader, I spent about $1500. a year to have someone bring in a cat to smooth it out, that's why I say that it pays for it's self every time I use it!! Definitely a 5 star Review from me!!!"

- William S. from Nampa, ID


about the 60" Driveway Grader model
Saved thousands$$$$

"Our driveway is over a quarter of a mile long and full of pot holes, in desperate need of grading and repair. I got a quotes for the repairs, ranging from $4,200 to well over $5,000. I saw an ad on TV for the DR Grader and thought, what the heck, nothing ventured, nothing gained. I can't believe just how easy this implement is to use, how great it works and what a beautiful job it did. I can't wait to use it on other projects around the farm. I am extremely satisfied with the performance of the Grader and more than exteremly satisfied with the money I saved!!!$$$!!!"

- Cmouse from Oregon


about the 60" Driveway Grader model