text.skipToContent
text.skipToNavigation
Compare up to
4

items

Select the compare checkbox on at least 2 items to compare.
Popular Questions
What is the difference between a Chipper and a Chipper Shredder?
You might be thinking, "Why choose a machine that can do one thing, when I can choose a machine that does two things?" The reality, however, is that the Chippers and Chipper Shredders are very different machines.
DR Chippers do one thing: they chip branches. They are the only wood chippers available for homeowners that self-feed most materials. Drop in a branch, and watch it chip on its own, without you force-feeding it! These machines use a razor sharp chipping knife mounted on an extra-heavy (up to 76-1/2 lbs.) flywheel that stores inertia as it spins. They will devour branches up to 5-1/2" thick (PRO-XL model).
DR Chipper Shredders, on the other hand, have two different intake hoppers for two different types of material. The chipping chamber, like that of our dedicated chippers, has a knife mounted on flywheel (but the flywheel is substantially lighter on our Chipper Shredders than what you'll find on our dedicated chippers).The shredding chamber employs a rotor with as many as 48 free-swinging hammers. These hammers pulverize lightweight materials like garden cuttings, leaves, and twigs.
What's the bottom line?
A DR Chipper is the most efficient choice for continuous wood chipping. Compared to models with shredders included, they have heavier flywheels, bigger hoppers, and they all feature DR Self-Feeding technology.
A DR Chipper Shredder is best if it's primarily lightweight material from your yard and garden that you deal with, and you only occasionally have branches.
---
Do DR Rapid-Feed Chippers really self-feed materials?
Yes! DR Rapid-Feed Wood Chippers will self-feed most materials. We designed them with a large, vertically-oriented hopper, a precisely-angled chipping knife, and an air-injected venting system that draws materials into the chipping mechanism. These innovative features make the DR Rapid-Feed Chipper the only wood chipper available to homeowners that actually self-feeds branches.
What can I use the wood chips or mulch for?
There are lots of uses for the wood chips or mulch that result from using your DR Rapid-Feed Chipper or DR Chipper/Shredder. Wood chips are great for mulching flower beds, covering muddy spots on trails and walkways, or for use as livestock bedding. The mulch from shredded materials decomposes quickly, often within 2 weeks, so it is ideal for making compost to enrich your garden soil.
Are DR Chippers and Chipper/Shredders easy to transport?
Yes! All DR Rapid-Feed Chippers and DR Chipper/Shredders come standard with a mode of transport for maneuvering them around your property. The smaller models have handles and rugged wheels for manual transport, and most have an optional towing kit available. The larger models are towable around your property with an ATV or riding lawn mower, and have optional road towing kits available. Both machines are also available in a 3-point hitch/PTO model compatible with any category 1 tractor.
Reviews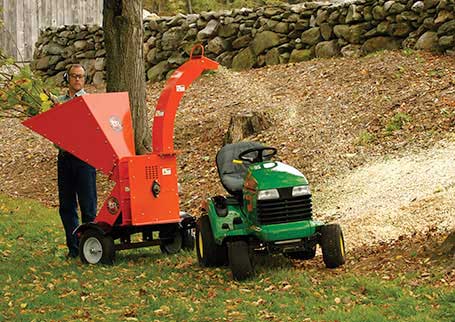 DR Chipper Reviews
This is no toy, it is well designed, and does what it is suppose too!

"My 16.5 chipper pro with electric start does everything I wanted in a chipper. It tows behind my atv easily . It handles anything from twigs to 4" limbs with ease. the chute almost feeds itself and I have ground up many cubic yards of chip mulch that I use landscaping and in my gardens. Great machine, and well worth the money paid. "

- BillZ56 from New York


about the 16.50 Pro Rapid-Feed Chipper
The 30.00 Pro-XL exceeded my expectations.

"I was surprised to find the machine met all it's published spec's. I had saved the packaging, thinking I would have to return it, but nows it's all fire wood. The machine starts up quickly, tows with my ATV anywhere I need to go on my 25 acres. I find the machine as effective with brush/twigs as it is with trees (up to 5.25 in.)"

- Rambo2 from South Carolina


about the 30.00 Pro-XL, Electric Start Rapid-Feed Chipper
Does everything company said it would.

"The chipper arrived on time, was not difficult to assemble and works exactly like it was advertised. Makes quick work of limbs and handles 4" trees like they were butter."

- Theoldskier from South Carolina


about the 3pt Hitch/PTO Rapid-Feed Chipper
This product works hard.

"I have done a lot of chipping and shredding of various types of material. Hardwood, softwood, thick, thin, vines, and sturdy weed stalks and it handles everything. I have been very pleased with its performance."

- Alfred13 from Tennessee


about the 14.50 Pro, Manual-Start Chipper Shredder
Over 40 hours and going strong

"This machine is amazing. I'm cutting down and chipping/shredding a Eucalyptus forest of about 250 trees. It makes nice mulch out of the leaves, small branches and acorns. The Chipper part is excellent, works as advertised on branches 4 1/2 inches or smaller. I've been running it every Saturday and Sunday since October and have had nothing but good results."

- David S. from SALINAS, CA


about the 30.00 Pro-XL, Electric-Start Chipper Shredder