DR® Power Graders
Tows behind your ATV or Riding Mower to remove ruts, potholes and washboard. Order your FREE Buyer's Guide to learn more!
What you'll get
Informational Buyer's Guide

Includes everything you need to know! Model comparisons, specification charts, features, owner stories, and FAQs.

Money-Saving Promotions

Learn about all the current promotions, including cash savings, credit offers, our hands-on trial, and more!

How to Order

Details about convenient ways to order yours, and have it shipped right to your door.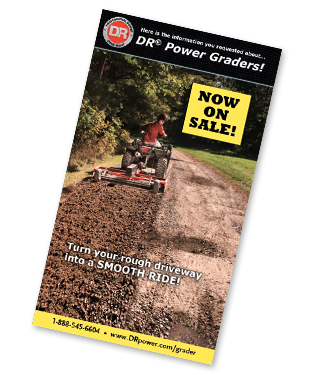 What other owners are saying
The first time using the road grader made it 100% better. Regular maintenance has made the road close to asphalt smooth. I would definitely recommend this product.
I had a limestone covered drive that sometimes rutted up. Hard to use a snowblower on it in winter. This unit solved that problem, now level as concrete. Great piece of equipment.
I've had my grader for five years. My driveway is 1/4 mile long on a hill. The grader does a great job smoothing out the ruts and washboarding, making it very smooth.