text.skipToContent
text.skipToNavigation
Added to Your Shopping Cart
Compare up to
4

items

Select the compare checkbox on at least 2 items to compare.
Features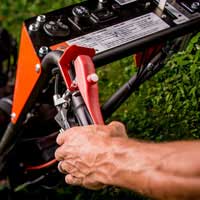 Power Steering
A simple, but effective, disc brake system provides power steering. Each wheel is equipped with its own brake, operated by a hand lever. Just squeeze the brake on one side, and the mower will pivot easily around that wheel. You're in control...without wrestling the machine! (PRO-26 14.5 HP, PRO-XL, and PRO-MAX models).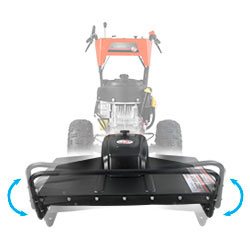 Pivoting Deck
Our decks have a wide cut but are still very maneuverable. Unlike rigid, fixed decks found on some mowers, the DR deck pivots from side to side, allowing it to follow the contours of rough terrain. This feature minimizes scalping and improves traction.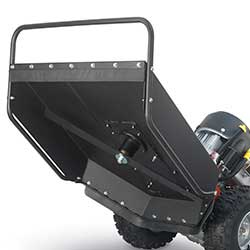 Superior Mulching
Our decks are enclosed on 3 sides, so that cut material is chopped and re-chopped, reducing grass and brush to a fine mulch. This means less material is left behind in your field, and none of the windrows you get with side-discharging mowers.
Reviews
DR Field And Brush Mower Reviews
Bob lives in Ava, Missouri and is the owner of a DR Field and Brush Mower. He uses his walk-behind brush mower for rocky fields with lots of uneven terrain and for clearing land around his house.




"The fescue grass was about waist high...and it went through it like a hot knife through butter."
"My DR Field & Brush Mower turns heads each time I use it. The pivoting mowing deck allows the machine to glide almost effortlessly. With five forward speeds and one reverse there's no sore back or strained muscles when the job is done. Truly the absolute best power tool I've ever owned. The DR Field & Brush Mower does exactly what the ads say it'll do. And it does it safely and efficiently."

- StaticMan, SC
"The DR mower has been a godsend for clearing my overgrown 56 acres. It can cut down small trees and mulch them up along with high brush and grass. I was skeptical when I first saw the ad for a DR. It has exceeded all that was stated. A tractor can't get around trees and rough terrain like the DR. Thank you DR for making my life easier!"

- Thomasson
"The DR mower is a great multi-tasker. It cuts through tall grass, saplings, and blackberry bushes like a pro. It does the job of multiple machines. It was my first larger machine investment when I purchased it almost 7 acres four years ago. Our new house is near completion and I am now awaiting delivery of a DR Power Wagon to help with landscaping. That's how much I like DR products!"

- NJB1944, Washington
"We have used our DR brush mower on the farm since 1999 and it has been used on the the toughest and roughest weeds and brush on the farm and never failed. it is dependable enough, powerful enough, and maneuverable enough to do every job. It works well on hilly terrain with small saplings and equally well in wet, swampy areas. As long as it has firm enough ground to support it, this mower can do the job. I would hate to think of running the farm without one."

- jimbobfarm, Alabama