text.skipToContent
text.skipToNavigation
Compare up to
4

items

Select the compare checkbox on at least 2 items to compare.
Popular Questions
How easy is the DR Stump Grinder to use?
Very easy! Stump grinding is the simplest way to get rid of any stump, and DR Stump Grinders are designed for easy maneuverability and quick results. Simply bring the machine to your stump, either by hand on the heavy-duty lugged tires, or by towing it behind your tow vehicle (Premier and Pro models require an optional tow kit for towing capabilities). Then, simply lock one tire in place, allowing you to pivot the machine back and forth as you grind away layer after layer. Watch each stump disappear right before your eyes!
---
Why is using a stump grinder the best way to remove stumps?
There are a number of methods of stump removal, including digging them out by hand and using chemicals to make them decompose. Stump grinding is the only method that minimizes your physical workload, and delivers instant results. There's no time spent on your hands and knees digging out roots, as with manual methods, and no waiting around to see results, as you would with chemical stump removal.
What does the end result look like after you grind a stump away?
After you grind a stump away, the end result is a pile of wood chips. These can be brushed away, or left to decompose on their own. The stump itself will be ground down to ground level or below, so the top portion of the root system that may be visible is easily covered with topsoil or sod, rendering it invisible. The root system below ground will simply rot away unnoticed.
Reviews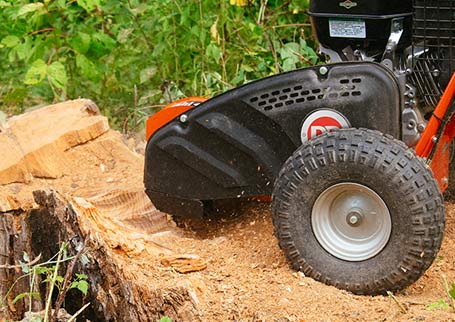 DR Stump Grinder Reviews
Owner Christmas tree farm

"This unit exceeded my expectations. I was looking for a grinder light enough to maneuver around and between trees on 5 acres. I like to keep Christmas tree stumps at or below ground level to prevent mower damage during the summer months. My DR stump grinder takes out the stumps in seconds! I've been a small engine repairman for years and recognized quality and design immediately upon opening the box."

- Steve M. from Rockford, MI


about the Premier model
Premier DR stump grinder

"I am 87 years old and after watching the videos, I thought I could handle it fairly easy. I have 6 bald cypress trees that have above ground roots and small knees that are causing problems mowing my lawn. It makes quick work grinding them below the surface. I have to rest often but I am very pleased with the end results. The engine starts easier than any engine I have ever owned and it is very quiet and has plenty of power to do what I need to do with it."

- HARRY D. from BRIDGE CITY, TX


about the Premier model
Stump grinder

"My husband loves his new toy. He hasn't stopped clearing the land since he got it. The only thing that will stop him is the snow."

- Kathleen D. from Hopewell Jct, NY


about the PRO model
Better than hoped for

"We began clearing land for a house and knew we could not remove several hundred 'mesquite' stumps the traditional way. I ordered the PRO Model stump grinder from DR. It arrived quickly and quickly began to pay for itself. I was initially concerned that maybe I should have ordered the electric start model but this machine starts on the first pull every time. I have to say this tool works far better than I expected. It is relatively easy to handle and cuts stumps into wood chips very easily and quickly. So far I have cleared 65 stumps which on average are approximately 6" - 8" diameter with some larger and some smaller. I don't know what I would have done without this machine. If you have stumps you want gone, this is your machine."

- Donald S. from Moran, TX


about the PRO model