text.skipToContent
text.skipToNavigation
Compare up to
4

items

Select the compare checkbox on at least 2 items to compare.
Popular Questions
What can I haul with a DR Powerwagon?
The DR Powerwagon is ideal for hauling heavy, bulky loads of almost anything, especially over rough, rocky, or hilly terrain that a wheelbarrow or garden cart simply can't handle. With the Premier model, you can haul up to 500 lbs., while the Pro model carries an impressive 800 lbs. We like to use them for hauling firewood, rocks, bricks, building materials, brush, topsoil, gravel, sand, branches, wood chips, mulch... the list goes on and on! For particularly loose or wet loads (sand, wet cement, etc.), we recommend either the Premier model, because of its molded polyethylene bed, or the Pro model with the optional Molded Bed accessory.
What types of terrain can I use the DR Powerwagon on?
One of the great benefits of using the DR Powerwagon is that unlike a wheelbarrow or garden cart, it can tackle almost any terrain. Use it to haul materials up and down hills, over soft or wet ground, on slopes up to 20 degrees, and over rocky fields. The DR Powerwagon is designed such that the load is situated directly over the heavy-duty lugged tires, so you get maximum traction on any surface. And with the powerful engine doing all the hard work for you, your hauling tasks are virtually effortless.
Reviews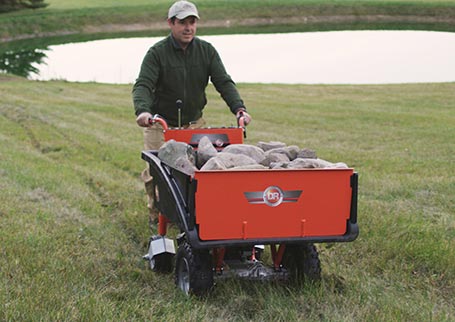 DR Power Wagon Reviews
This powerwagon is the real deal!

"This powerwagon is the real deal; outstanding; a work-horse; sturdy; well-made; great for big, heavy loads and up-hill movement. Simply put, its the best yard machine I've ever owned. "

- CliffB from North Carolina


about the 6.25 Premier, Electric Start Power Wagon
We should have done this A LOT sooner

"We live on a farms and are constantly moving rock, materials, etc. We use our tractors when we can, but there are so many jobs that are smaller, yet still heavy work. My husband and I are getting older and wheelbarrow work has become increasingly more difficult. This machine is a life saver! Easy to use and well built. We have a DR Trimmer as well, and that is another favorite machine. Great engineering and a very reasonable price when compared to back pain and heavy work."

- Alanwoodfarms


about the 6.25 Premier, Electric Start Power Wagon
It's hard to work without it.

"I have own one for over ten years now and it has made my work mush easier to do. The unit I just purchased was for my daughter to make her work so much easier also. P.S. I live on a hill side property and you can do very little without the power wagon."

- JERRY O. from AGOURA HILLS, CA


about the 6.75 Pro, Electric Start Power Wagon
Very maneuverable!!

"I love the hydraulic bed. Excellent for dumping wood and mulching in the yard. The electric start is a great feature and shifting gears an ease to do. All I had to do was connect the battery, put oil in it and gas it up!! I have steep areas on my property and it cruises right on up with no problem. It's a workhorse!!! "

- Greco from Virginia


about the 6.75 Pro, Electric Start
I love it more every time I use it!

"My neighbor owns a powerwagon which is how I first learned of them. I thought it was a nice idea but never took it seriously, until i used it to move pea stone from his land to mine....."is it full yet?"..... "no, keep going"......."now?"...."nope, more"....Wow! Fully loaded and moved it over uneven terrain with ease. I promptly went and purchased one to finish the rest of that project, and it has not stopped since. Wood, stone, you name it, it has been a lifesaver. Worth every penny. I moved a stone today that was greater than the size of the deck, about 3' in diameter, and 8" thick. It dumps easily without the power dump feature. I love it more every time I use it!"

- Jthunder from Massachusetts


about the 6.75 Pro, Electric Start - Fully Loaded