text.skipToContent
text.skipToNavigation
Compare up to
4

items

Select the compare checkbox on at least 2 items to compare.
Features
Walk-Behind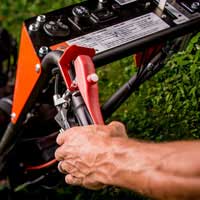 Power Steering
A simple, but effective, disc brake system provides power steering. Each wheel is equipped with its own brake, operated by a hand lever. Just squeeze the brake on one side, and the mower will pivot easily around that wheel. You're in control...without wrestling the machine! (PRO-26 14.5 HP, PRO-XL, and PRO-MAX models).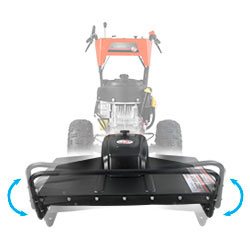 Pivoting Deck
Our decks have a wide cut but are still very maneuverable. Unlike rigid, fixed decks found on some mowers, the DR deck pivots from side to side, allowing it to follow the contours of rough terrain. This feature minimizes scalping and improves traction.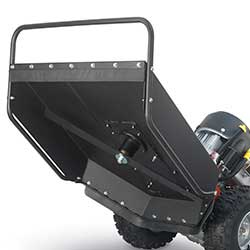 Superior Mulching
Our 26" and 30" models have decks enclosed on 3 sides, so that cut material is chopped and re-chopped, reducing grass and brush to a fine mulch. Our 34" model (the PRO MAX34)—because of its extra wide width—is equipped with right-side discharge chute. But its high blade-tip speed mulches impressively.
Tow-behind
Floating Deck
The deck is suspended from the frame, allowing it to ride up and over high points, minimizing scalping and protecting the drivetrain from damage.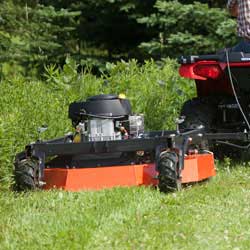 Wide Cut
Wide cutting widths get the job done fast. From 44 inches on Brush Mowers up to as much as 60 inches on our tow behind finish mowers.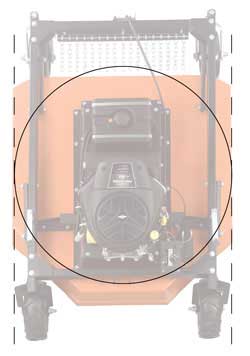 Mows Outside Wheelbase
Our decks cut well outside the wheel base, which makes it easy to mow up close to fences, outbuildings and other obstacles.
Brush Cutting: Optimizing Your Property
Brush cutting is one of the tools available to you for adapting your property to the specific uses and pastimes you enjoy. The possibilities are almost endless, but for most people it boils down to creating and/or maintaining one or more of the areas below. Most likely, you'll want a combination of these for different areas of your property.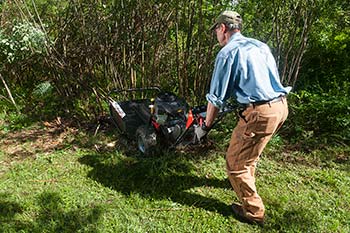 Lawns
When it comes to creating lawns, brush cutting comes in the preparation phase, since, once it's established, you'll maintain your lawn with a normal lawn mower. But first, you need to knock down overgrowth including canes, vines, saplings, invasive shrubs and weeds. Sometimes, with heavily overgrown property, you need to do take this step just to see the "lay of the land", and then determine how large an area you want to groom. (Your brush cutting may indicate other tasks too, such as removing or thinning trees, landscaping, or tilling and planting.) An important consideration when clearing a lawn area is to understand how much regular lawn mowing and other lawn maintenance you are signing up for.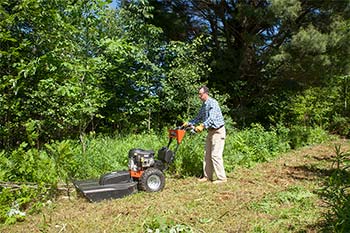 Second Cuts
Many country property owners enjoy having an expanded open area around their homes, without necessarily creating an enormous "lawn" that needs weekly or biweekly mowing. Making a second cut, either a perimeter or border adjacent to the main lawn is a good way to expand your views with a lower maintenance rough cut area. Depending on the look and feel you want, a second cut can be mown as little as twice a year (spring and fall), or more frequently.
A second cut can be just slightly rougher than your lawn, or you can let it get grow quite tall. Either way, using a brush cutter is a good way to maintain second cuts, as the thicker and longer growth, with more woody content, is likely to overtax your lawn mower. Note that, in areas that are at high risk for fires, having an expanded area around you home may well be a safety consideration and not just an aesthetic one.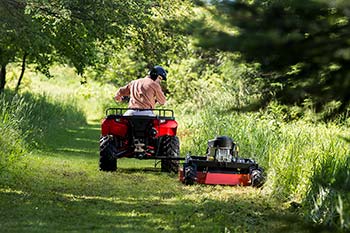 Trails
If you live in a wooded area, or just want to selectively clear discreet areas of your property, trails are a great way to connect to those areas (while also creating recreational paths for walking, biking, or off-roading). Mowing a trail to a pond, an outbuilding, or a favorite view, allows you maintain a wilderness feel without making you fight your way to your destination.
There are infinite ways to shape your property and optimize your land for your life, and a DR Field and Brush Mower can help you get there. In addition to our legendary walk-behind models, we offer towable models and tractor-mounted models. Check them out, and see how they can help you create the property you're dreaming of!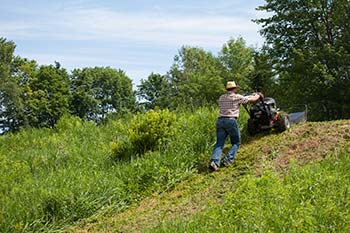 Firebreaks
Brush cutting a firebreak can significantly reduce the chances of a wildfire reaching your home. Simple and effective, a firebreak is essentially an open space that lacks sufficient vegetation (fuel) for a fire to take hold. Examples of natural firebreaks are streams and canyons, while most manmade firebreaks include roads, driveways, and trails.
Guidelines for firebreaks vary from state to state, so we recommend checking with your local fire department for firebreak requirements in your area. Once cleared, keep the area adequately irrigated and well-trimmed, as healthy, green grass is one of the most effective barriers against ground fires.
Additional fire-prevention measures include planting high-moisture, fire-resistant shrubs, storing combustible sources (woodpiles, stacked lumber, etc.) away from your house and outbuildings, and keeping your roof and gutters free of pine needles, dead leaves, and overhanging branches. NOTE: Always comply with all applicable laws and regulations, and consult your local fire department regarding fire safety requirements and best practices.
Reviews
DR Field And Brush Mower Reviews
Bob lives in Ava, Missouri and is the owner of a DR Field and Brush Mower. He uses his walk-behind brush mower for rocky fields with lots of uneven terrain and for clearing land around his house.




"The fescue grass was about waist high...and it went through it like a hot knife through butter."
"My DR Field & Brush Mower turns heads each time I use it. The pivoting mowing deck allows the machine to glide almost effortlessly. With five forward speeds and one reverse there's no sore back or strained muscles when the job is done. Truly the absolute best power tool I've ever owned. The DR Field & Brush Mower does exactly what the ads say it'll do. And it does it safely and efficiently."

- StaticMan, SC
"The DR mower has been a godsend for clearing my overgrown 56 acres. It can cut down small trees and mulch them up along with high brush and grass. I was skeptical when I first saw the ad for a DR. It has exceeded all that was stated. A tractor can't get around trees and rough terrain like the DR. Thank you DR for making my life easier!"

- Thomasson
"The DR mower is a great multi-tasker. It cuts through tall grass, saplings, and blackberry bushes like a pro. It does the job of multiple machines. It was my first larger machine investment when I purchased it almost 7 acres four years ago. Our new house is near completion and I am now awaiting delivery of a DR Power Wagon to help with landscaping. That's how much I like DR products!"

- NJB1944, Washington
"We have used our DR brush mower on the farm since 1999 and it has been used on the the toughest and roughest weeds and brush on the farm and never failed. it is dependable enough, powerful enough, and maneuverable enough to do every job. It works well on hilly terrain with small saplings and equally well in wet, swampy areas. As long as it has firm enough ground to support it, this mower can do the job. I would hate to think of running the farm without one."

- jimbobfarm, Alabama