text.skipToContent
text.skipToNavigation
Added to Your Shopping Cart
Compare up to
4

items

Select the compare checkbox on at least 2 items to compare.
Videos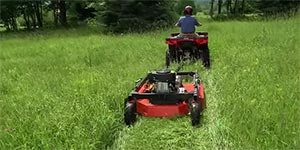 Tow-Behind Brush Mowers
(2:52)
Hook up to your ATV or riding mower to this 44" brush buster and mow while you ride. Take this rugged machine anywhere your tow vehicle can go. Thick field grass and 3" saplings are no problem.
Features
Floating Deck
The deck is suspended from the frame, allowing it to ride up and over high points, minimizing scalping and protecting the drivetrain from damage.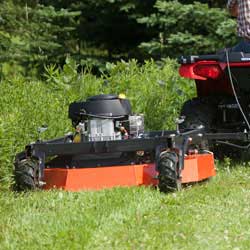 Wide Cut
Wide cutting widths get the job done fast. From 44 inches on Brush Mowers up to as much as 60 inches on our tow behind finish mowers.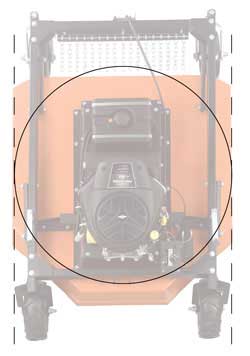 Mows Outside Wheelbase
Our decks cut well outside the wheel base, which makes it easy to mow up close to fences, outbuildings and other obstacles.
Reviews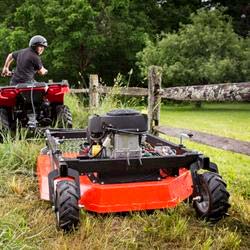 DR® Field And Brush Mower Reviews
"Too good to be true? Not the DR Brush Cutter. We got ours ten years ago when we first started clearing part of our 30 acres for our bed and breakfast. It has done everything we hoped for and more - we're still impressed with how much it gets done in return for relatively little work from us, from initial clearing to ongoing grounds maintenance. We highly recommend the DR to anybody with brush and other heavy cutting needs."

- BnBRobin, Idaho
"My DR Field & Brush Mower turns heads each time I use it. The pivoting mowing deck allows the machine to glide almost effortlessly. With five forward speeds and one reverse there's no sore back or strained muscles when the job is done. Truly the absolute best power tool I've ever owned. The DR Field & Brush Mower does exactly what the ads say it'll do. And it does it safely and efficiently."

- StaticMan, SC
"The DR mower has been a godsend for clearing my overgrown 56 acres. It can cut down small trees and mulch them up along with high brush and grass. I was skeptical when I first saw the ad for a DR. It has exceeded all that was stated. A tractor can't get around trees and rough terrain like the DR. Thank you DR for making my life easier!"

- Thomasson
"The DR mower is a great multi-tasker. It cuts through tall grass, saplings, and blackberry bushes like a pro. It does the job of multiple machines. It was my first larger machine investment when I purchased it almost 7 acres four years ago. Our new house is near completion and I am now awaiting delivery of a DR Power Wagon to help with landscaping. That's how much I like DR products!"

- NJB1944, Washington
"We have used our DR brush mower on the farm since 1999 and it has been used on the the toughest and roughest weeds and brush on the farm and never failed. it is dependable enough, powerful enough, and maneuverable enough to do every job. It works well on hilly terrain with small saplings and equally well in wet, swampy areas. As long as it has firm enough ground to support it, this mower can do the job. I would hate to think of running the farm without one."

- jimbobfarm, Alabama