Haul up to 800 lbs. with ease!
Haul just about anything over hills and rough terrain with a DR® Powerwagon! Order your FREE Buyer's Guide to learn more!
What you'll get
Informational Buyer's Guide

Includes everything you need to know! Model comparisons, specification charts, features, owner stories, and FAQs.

More Hauling Options

We'll include information about DR® Versa-Trailers, our unique family of versatile haulers.

Money-Saving Promotions

Learn about all the current promotions in effect, including cash savings, credit offers, our Hands-On Trial, and more!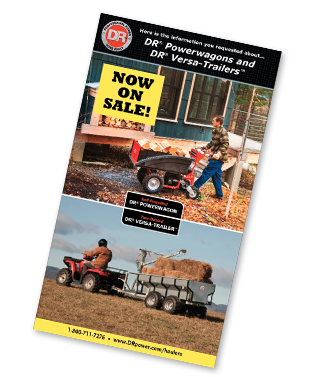 What other owners are saying
10 years ago I purchased the DR® Power Wagon as a gift for my husband. He uses it daily to haul wood, garden dirt, grass clippings, boxes, gravel, downed trees, mattresses, you name it the Power Wagon hauls it! The Power Wagon gets the job done effortlessly.
Thoughtfully designed and very well built. Even the smallest details are well thought out. Every part of the trailer is designed to stand up to hard work. The axles and hub assemblies have the quality and machining you would expect from a far larger trailer. A very solid piece of equipment.